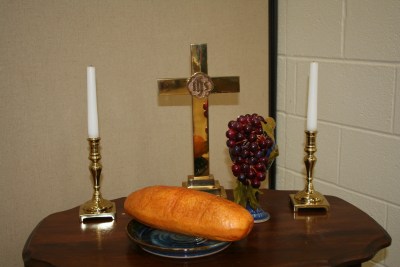 As persons seek ways to respond to the love of God, they will inevitably experience the need to worship with other believers. First Christian Church offers Sunday worship services at 10:00 each week. Our worship combines singing, prayer, Bible reading, silence, music, preaching, and communion.
Communion is the centerpiece of our worship. Following the Disciples tradition, we offer communion each week. Communion allows us to experience the presence of God as we remember God's grace shown to us in Jesus Christ.
First Christian actively supports all combined worship events that are sponsored by the Bedford County Ministerial Association.
Children in Worship
"Children's Church" for preschool through 5th grade, takes place during the worship service. Our focus is to instill a sense of "Worship and Wonder" in our children as they worship with other children. The activities are designed for children to enter more deeply into the life of faith in Jesus Christ.
Worship in Motion
Worship in Motion allows participants to worship our Lord through dance. The worship offerings are simple, but leave lasting and powerful messages. Women, men, and children ranging in age from 5-77 make up this beautiful ministry. Worship in Motion meets Wednesday evenings from 6-7:30 in the sanctuary and always welcomes new members. No dance skills are required. Visit the Videos page to see some of our Worship in Motion performances.